Make Your Way Here
The wide variety of transportation options available throughout the Fraser Valley make getting around a breeze. Travellers flying to Abbotsford International Airport can hop into a rental car, shuttle, taxi or bus to travel to your accommodations. Those making their way through the valley's picturesque farmlands and majestic mountains covered in pine, fir, cedar and spruce trees can access similar options throughout our communities, including ride share services in select locations.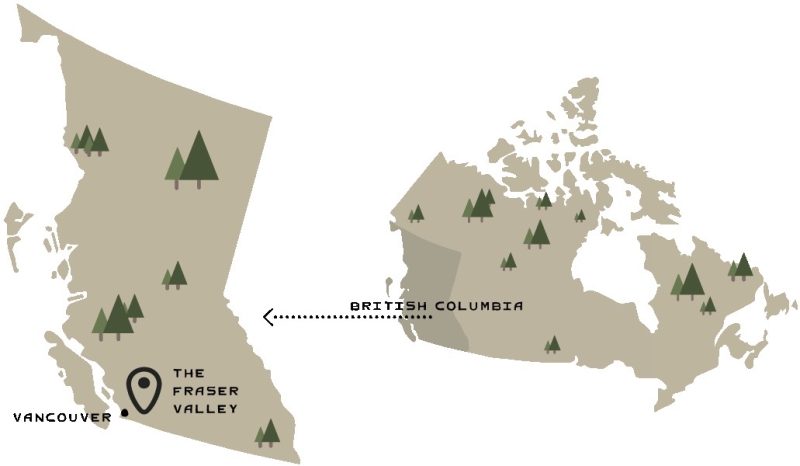 BY PLANE
The Fraser Valley is easily accessed by air via three airports. Abbotsford International Airport is located in the heart of the valley, and is serviced by Air Canada Rouge, WestJet, Fly Swoop, Flair Airlines, Island Express and Sunwing. Vancouver International Airport is one hour east of the Fraser Valley, and Bellingham International Airport is also located one hour to the south.
BY BUS
From Vancouver, Greyhound Canada travels to Langley, Chilliwack and Abbotsford multiple times per day. Travel times vary, and prices are usually between $10 and $30. Translink also connects Vancouver to Langley. Bus and train connection times vary. Check the site for the most up to date travel times.
BY CAR
From the East
Depending on your origin and other variables, such as construction, your exact route may vary. However, from Kamloops onwards the most common route into the Fraser Valley will be via BC-5 through Merritt and into Hope (the Yellowhead Highway, also known as the Coquihalla Highway from Kamloops to Hope). The Fraser Valley can also be accessed via BC-3 via the Okanagan or TC-1 via the Fraser Canyon.
From Vancouver
Depending on your destination within the Fraser Valley, car travel takes approximately 60 to 90 minutes from Downtown Vancouver. From where you are staying in the city, head east on the Trans-Canada Highway. The Fraser Valley can also be accessed via BC-99, or BC-17.
From Seattle
The Fraser Valley is located less than 2.5 hours north of Seattle. From downtown Seattle, merge onto Interstate 5 northbound toward Vancouver. At Bellingham, take exit 256A-256B for the Aldergrove-Bellingham Highway/ BC-13. This road will take you to the USA/ Canada border crossing and into the Fraser Valley. Don't forget your passport!
Accessing the mountains often requires a vehicle or shuttle bus. Before selecting a rental vehicle, make sure to look up information about road conditions leading up to your destinations to find out if you'll need a ride that has more clearance; comes with winter tires and/or chains; and can handle rocky, rugged terrain. Also consider whether you will need a rack or extra trunk space for your gear.
Be aware that there is a Variable Speed Limit System (VSLS) on Highway 1 between Abbotsford and Chilliwack. Speed limit notifications are posted on a series of signs along the highway. If you have not encountered this before, you can find more information about the VSLS on the BC Ministry of Transportation and Infrastructure's website here.
Winter tires are required along many Fraser Valley roads between October 1 and April 30 each year. Some areas also require chains. Find maps and more details here.