Feb 19
Pressland General
You can feel the creative juices flowing as soon as you enter Pressland General. Owners Aaron and Jay are the heart of their business and always have a new and exciting project on the go. Their cozy one-of-a-kind shop, located in the heart of Mission's Historic 1st Avenue shopping area, is a friendly and welcoming spot where folks can find all sorts of goods from organic, locally made skincare to unique cards, apparel, and outdoor gear.
But Pressland is more than just your average gift shop. In the back of the store you'll find their screen printing studio space, where they print goods for clients all over the Fraser Valley and beyond under their brand Pressland Printing. It also serves as the shipping hub and the home base for their apparel brand, Locomotive Clothing & Supply. With all of that on the go, we were lucky to find some time to sit down with Jay and Aaron to find out more about their business, and what they love about The Fraser Valley.
PROFESSIONAL
The Fraser Valley: Pressland General has a very distinct style. What do you look for in the products you carry?
Pressland General: Sourcing great items for the shop is a very satisfying creative outlet. It's really important to us that we curate a selection of goods that we can stand behind, quality-wise, and where customers with any budget can find something they love. First, we need to personally love the items and the brands we bring in, and our own aesthetic and interests are what brings continuity to such a diverse range of products. Beauty, ethical production, uniqueness, functionality, and quality are all top of mind when we're choosing goods for the shop.
TFV: What are some of the local Fraser Valley brands that you covet?
PG: The Fraser Valley is such an incredible place for creative business, with many talented folks who don't shy away from putting in the hard work needed to grow their vision. From our own home town of Mission we especially love K'Pure Naturals, Studio Natoyaista, Só Luxury, and Karla's Specialteas. These brands are standouts in quality and are all run by incredibly talented women who we're proud to call our friends and neighbours.
TFV: What are you most proud of in the brand that you've built?
PG: We're really proud of our own growth as creatives and business people over the past year especially. When the shutdown happened in March 2020, our store had only been open for seven months and we were still in the very steep learning curve of a new business. We learned some extremely hard lessons over the past year, but in the process have come out of it with a clearer vision, a stronger team, and hearts full of gratitude for the support of our community.
Honestly it's been the most difficult and hardest working year of our lives, but we're proud to have leaned in and met each challenge head on.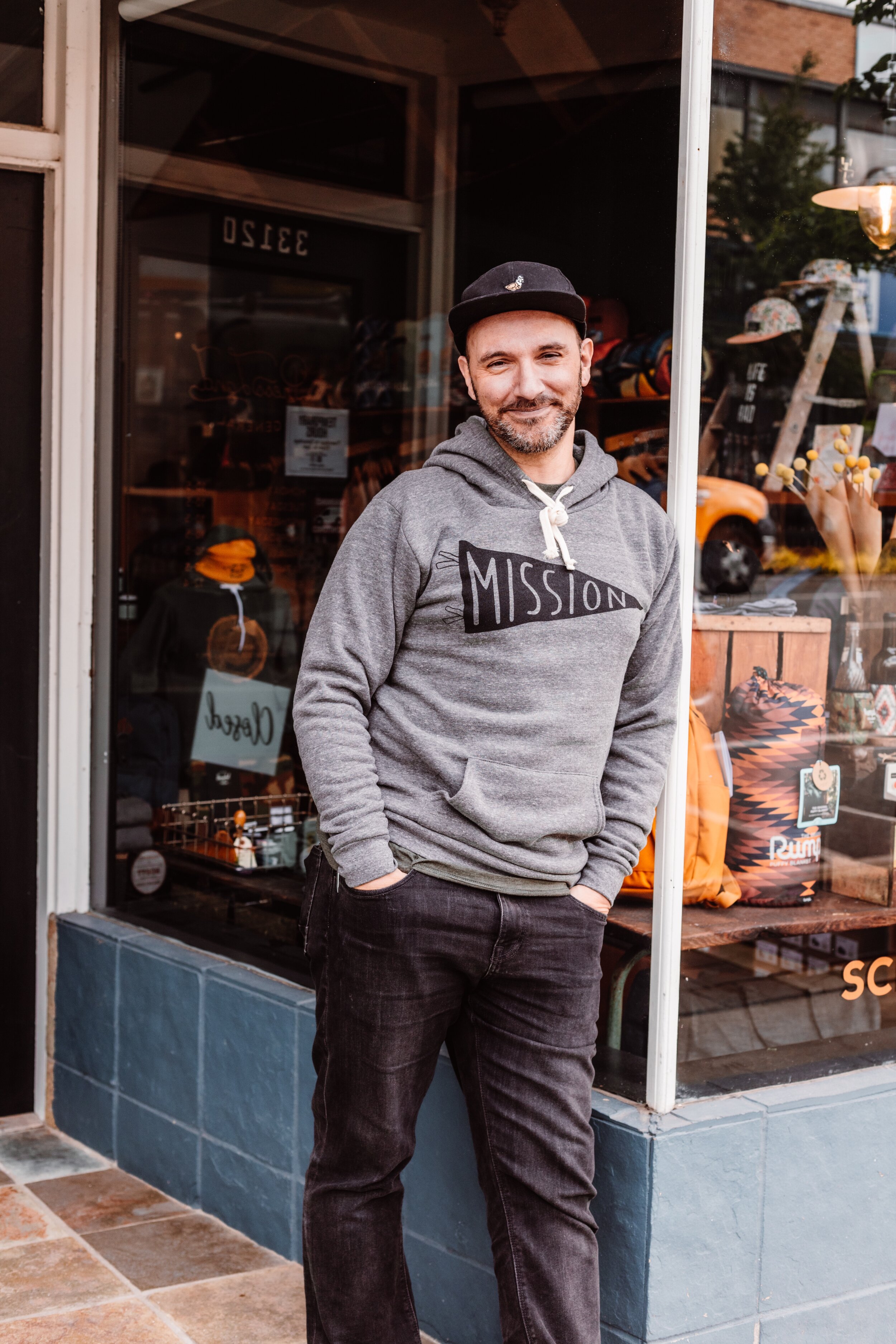 PERSONAL
TFV: Tell us a little bit about your lives outside of Pressland General.
PG: With the challenges that the past year has brought, the shop has taken up a pretty big portion of our time. But outside of work we love to play board games with the family (Catan is a new favourite), chat with friends over Zoom, watch movies and favourite shows like Ru Paul's Drag Race and Schitt's Creek, and get outside as much as possible. Pandemic hobbies have
included starting a vintage skateboard collection and taking art courses (Jay), and diving deep into skincare and taking digital marketing courses (Aaron).
TFV: Do you have any pets? What are their names?
PG: Trooper is a four-year-old Portuguese Water Dog. He's an absolute brat but his love for his family is endless.
TFV: What would you tell yourself 20 years ago that you wish you knew then?
PG: Keep having fun and bringing as much art and joy into your day as possible. Life does not stop when you turn 25, 30, 40 or beyond, and you'll be constantly learning and being provided with opportunities and meeting amazing people.
TFV: Are there any local businesses that inspire you? And why?
PG: There are so many amazing and inspirational Fraser Valley businesses, but in particular we'd like to single out our neighbours The Penny Coffee Shop. It's not only a stellar place to get delicious food and beverages, but also an amazing example of a business that gives back and provides so much community support through their connections to Hope Central.
THE FRASER VALLEY
TFV: How would you describe your perfect day in The Fraser Valley?
PG: Our perfect day will include sunshine and a swim at one of our many local lakes and then a trip to Downtown Abbotsford for treats from the trifecta of deliciousness Duft and Co. Bakehouse, The Polly Fox, and Reddy Made Cakes. Then it's off to Happy Hour at Bow & Stern. If the day is really perfect, we're topping it off with a campfire and friends, where we can chat long into the night and make up for lost time.
TFV: Tell us about your favourite place to eat here in The Fraser Valley!
PG: Bee Thai is a Mission gem and a restaurant that would be considered excellent in any urban setting. We're so lucky to have it here in Downtown Mission, and the Fried Rice with Pineapple is a big time lunch staple at our shop.
TFV: What is your favourite season in The Fraser Valley?
PG: Can't beat a sunny spring day. We're starting to see lots of hints of it recently, with some cherry blossoms popping up and magnolias around the corner. This is such a beautiful place to live and so full of life already, it's really magical with spring in its full glory.
Whether you're browsing the shops in Downtown Mission, picking up a curbside pickup order from Locomotive Clothing, or coming to get a custom designed shirt made, Pressland General is the place for you. Visit them at 33120 1 Ave, Mission, BC or shop online!