Dec 9
Holiday Offerings on the Circle Farm Tour
Celebrate the holiday season along the Circle Farm Tour full of specialty farm-gate vendors, charming eateries, beautiful heritage sites, and special events. Here's your guide to some of our beloved Circle Farm Tour partners' holiday happenings…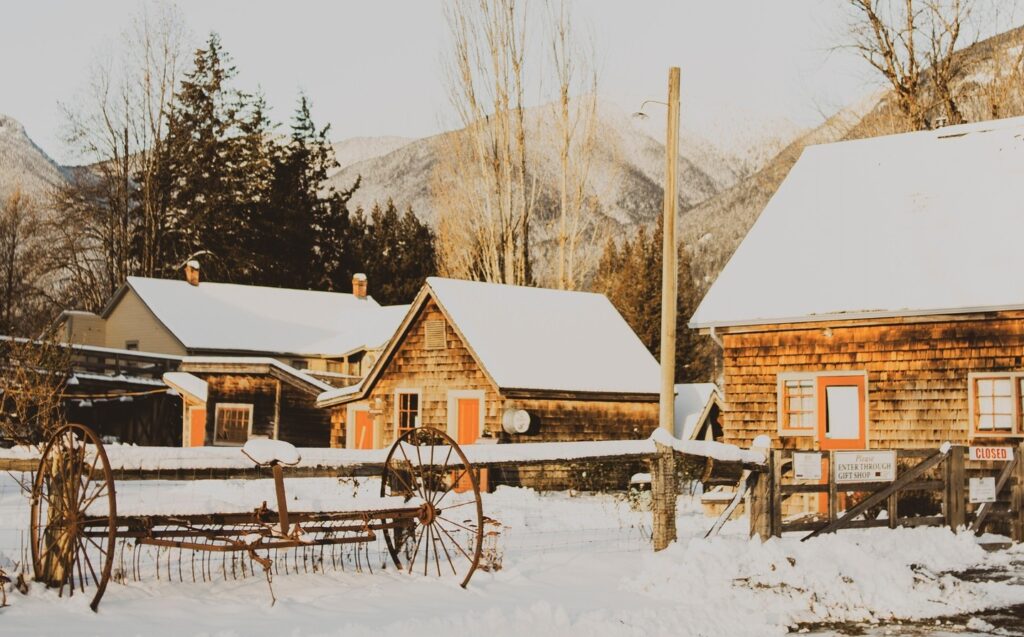 Farm Experiences
Offerings
Krause Berry Farms | 6179 248 Street, Langley
Savour their delicious waffles! Baked apple and pumpkin will be featured between now and Christmas (check their website for current toppings)
Goats Pride Dairy | 30854 Olund Road, Abbotsford
Locally produced dairy products, honey, soap, cultures and cheese-making kits, and more! Stop by Goats Pride Dairy for a self-guided tour of the farm – find out more information on how to plan your visit here.
Events
Live Music on the Corral Centre Stage| Various Dates |6179 248 Street, Langley
Krause Berry farm is featuring various artists from 10:30 to 2:30, see their website for more details.
Christmas in the Country | December 10 & 11 | 215 Kilby Road, Harrison Mills
Take a break from the present to experience an old-fashioned Christmas at Kilby Historic Site. There will be festive site decorations, warming fires, holiday music, and a visit from Father Christmas.
Christmas Dinner | December 10 & 11 | 215 Kilby Road, Harrison Mills
Enjoy a truly festive meal with turkey and all the trimmings. Call 604-491-4932 or email info@kilby.ca to book your seating for 12:00 or 2:00. Reservations are required.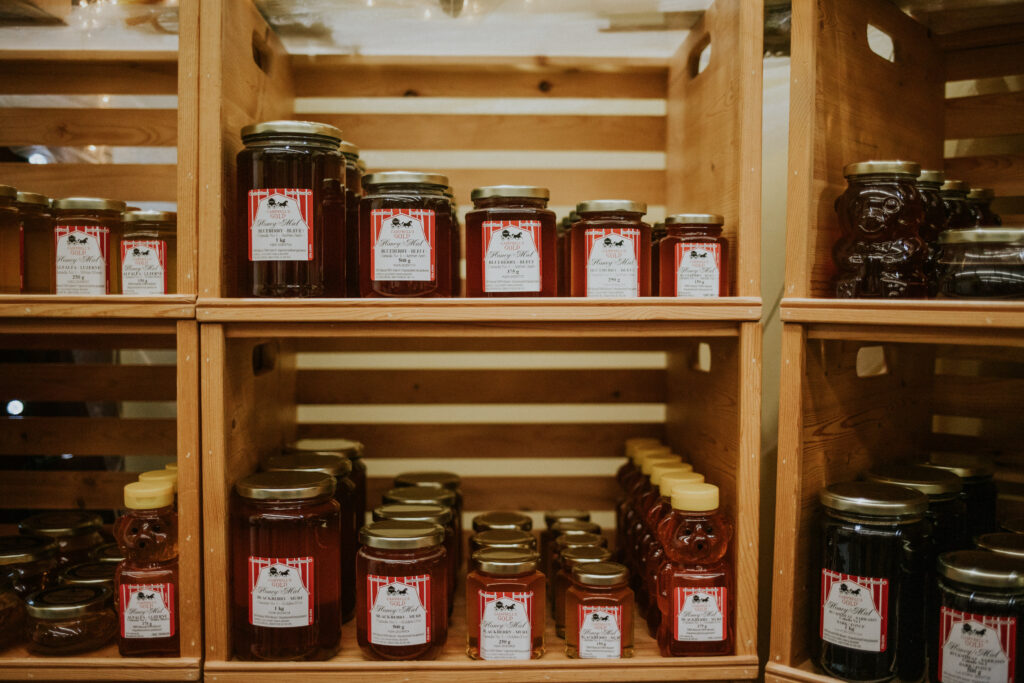 Farm Stores
Offerings
The Farm House Natural Cheeses | 5634 McCallum Road, Agassiz
Their 12 Days of Christmas Cheesy Countdown Box contains an assortment of 12 exceptional artisan cow & goat cheeses. This limited-quantity offer is $150 in value and is available for $110 until December 9th  Call or email to order yours today!
Creekside Cheese & Creamery | 3990 Chaplin Road, Agassiz
Choose from two sampler boxes, both including a delicious array of their most popular fresh handcrafted cheeses. Large Sampler – $55 each. Small Sampler -$28.50 each. Both options come packaged and ready to gift! To place your order, call the store at (604) 796-8485.
Lepp Farm Market | 33955 Clayburn Road, Abbotsford
Weekly features including festive drinks and treats, holiday kitchen accessories, seasonal dishes made in-house, and more!
Neufeld Farm Market | 32215 King Road, Abbotsford
Weekly delicious specials (will include details) available to you for your holiday hosting needs.
Campbell's Gold Honey Farm and Meadery | 2595 Lefeuvre Road, Abbotsford
Campbell's Gold Honey Farm and Meadery offers a wide variety of honeys, meads, and other premium beehive products – great for gifting, and festive spreads.
Ralph's Farm Market | 22728 Fraser Highway, Langley
Choose from Okanagan seasonal apples and pomegranates for a healthy and tasty holiday snack or reserve a fresh, free run turkey for a Christmas dinner celebration with family & friends. Check out their unique hot chocolate sticks to make it even easier to cozy up to a warm cup of hot chocolate this season with a variety of gluten-free baked good options!
BC Buzz Honey | 6321 248 Street, Langley
The holiday gift baskets make the perfect presents for all the honey lovers. Pick a premade option or customize your own with a variety of honey vinegar, honey sticks, honey hand salve, dandelion honey, blueberry honey, and much more!
Events
Cedar Rim Nursery | December 10 & 11 | 7024 Glover Road, Langley
Imagine welcoming guests to your home for the winter season with gorgeous fresh winter greenery and grapevine wreath decoration that you created yourself at a guided workshop. Cost: $60.00 – $65.00
Local Harvest |December 9 | 7697 Lickman Road, Chilliwack
A fun and free event featuring wood-fired pizza, an artisan market, firepits, a barrel train ride, and more!
Hofstede's Country Barn | December 10 |45796 Luckakuck Way, Chilliwack
Get your pictures with Santa by donation to Ruth & Naomi's. There will also be other fun festive offerings.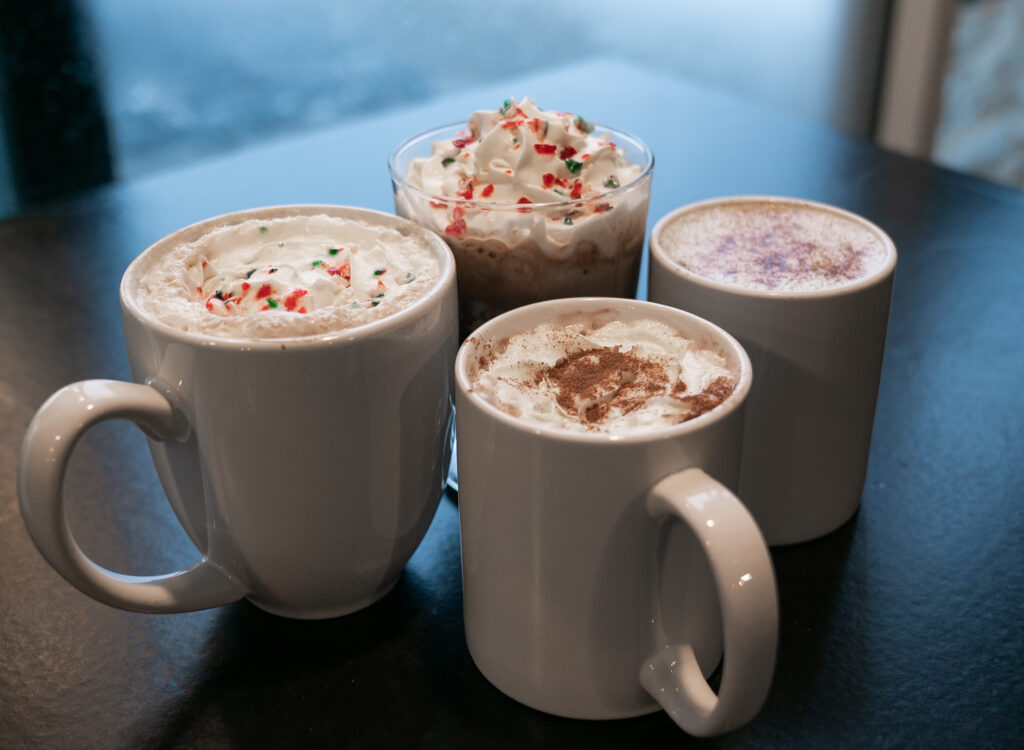 Eateries
Offerings
Muddy Waters Cafe |328 Esplanade Avenue, Harrison Hot Springs
Check out these delicious specialty Holiday Drinks at Muddy Waters Cafe this festive season – choose from their Hot Apple Cider, Gingerbread Latte, Toasted Marshmallow Hot Chocolate, Eggnog Latte, White Chocolate Raspberry Mocha, and Oat-Nog Mocha.
Cabin Fever Junction |2 -7026 Pioneer Avenue, Agassiz
Treat yourself to these specialty Holiday Baked Goods available at Cabin Fever Junction – select from their supply of Gingerbread Cookie Bars, Eggnog Fudge, Holiday Sugar Cookies, Mincemeat Tarts, and Gingerbread Men.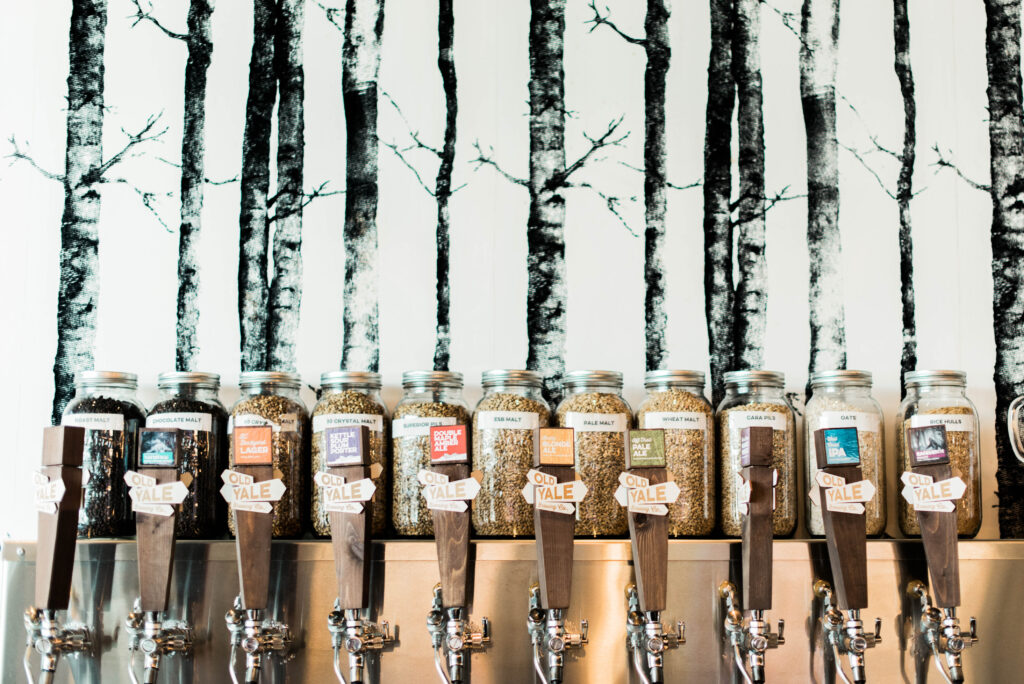 Sips & Spirits
Offerings
Roots and Wings Distillery | 7897 240 Street, Langley
Great gift options are available at Roots and Wings Distillery, including their Custom Cocktail or Mocktail boxes, in any price range. Contact by phone call, or email marketing@rawstillhouse.ca.
Glass House Estate Winery | 23449 0 Avenue, Langley
The Pop-Up Patisserie features the creations of the talented Chef @brunofeldeisen who is a French chef, restaurateur and television personality, judging for The Great Canadian Baking Show on CBC Television @cbcbakingshow. The Patisserie offers a collection of handmade artisanal pastries, handcrafted preserves, spreads, seasonal goods, and the infamous hot chocolate bomb. Available while supplies last.
Taves Estate Cidery | 333 Gladwin Road, Abbotsford
Check out Taves Estate Cidery's shop online, as they offer cider tastings, seasonal ciders, sparkling cider, apple butter, and more!
Farmhouse Brewing | 6385 Lickman Road, Chilliwack
Christmas Gift Packs are back! From Toques, Glasses, and Growlers, each gift package comes with a $10 gift card. Check out their socials for more information on how to order.
Old Yale Brewing |404 – 44550 South Sumas Road, Chilliwack
Holiday Presents
Pre-packaged Holiday presents featuring beer, a growler, a toque, an ornament, and more! Beginning November 25, and available while supplies last. Shop online, and in-store.
Gift Card Promo
For every $50 gift card you purchase, you'll get a FREE $10 gift certificate (no limits on quantities.) Available from November 12 to December 31.
Trailblazer Treats Holiday Treats
Treat yourself to these wonderful festive featured flavours! Here is what's available now: Peppermint Mocha, Cranberry Soft Serve Ice Cream, Eggnog Latte, Eggnog Soft Serve Ice Cream – Gingerbread Latte available after December 9.
Events
'Tis the Saison Event | December 9 – 11 | 7111 252 Street, Langley
Come to Locality Brewing to eat some finger food, enjoy amazing flights, and be very merry in their cozy indoor/outdoor event shack by the lagoon! Bring some old friends, and make some new ones! Tickets are $55 and can be purchased here.
Holiday Open House | December 10 & 11 | 21152 16 Avenue, Langley
Join Township 7 in their tasting rooms to celebrate the holidays! Both locations will have festivities, giveaways, and complimentary gift wrapping for all your gifting needs – open from 11:00 to 5:00.
Ripples Estate Winery | December 30 & 31 | 3387 Tolmie Road, Abbotsford
Hosted in their Secret Garden venue, join Ripples Estate Winery as they host their 2022 Year End Cocktail Crawl. There you'll find appetizers, cocktails, live music, and festive cheer. Tickets are $58 per person and can be purchased here.
12 Day of Casks | December 12 – 23 | 404 – 44550 South Sumas Road, Chilliwack
Starting December 12, Old Yale Brewing will be featuring a NEW Holiday-inspired Cask every day. Each Cask will be tapped at 2:00 daily and will be available until they run out of flights and pours. Holiday Casks will be announced daily but will include a Peppermint Mocha Stout, a Gingerbread Amber, a Mulled Wine Plum Sour, a Moscow Mule Lager, and more!
Holiday Movie Trivia | December 20 | 404 – 44550 South Sumas Road, Chilliwack
Calling all Trivia Lovers! Old Yale Brewing will be hosting Trivia Tuesdays in their Tasting Room, every single Tuesday from 6:00 – 9:00, have fun and test your knowledge of Christmas Movies!
Snow Building Competition | 6385 Lickman Road, Chilliwack
Head on over to Farmhouse Brewing and build a snowman or snow sculpture in any of their front greenspaces. Click here for more information on how your snow creation can win you a free pizza!
We hope you have a safe and fun holiday season, along with your friends and family, celebrating all that the Fraser Valley has to offer. For more festive finds, check out A Very Valley Holiday!