Experience the Circle Farm Tour
The Fraser Valley offers a seemingly endless number of activities for you and your family to discover—from summer holiday adventures to winter wonderland vacations. Get inspired by nature's beauty and bounty with unique dining and outdoor experiences. Bring your furry friends. Find that perfect camping spot or handcrafted gift as you make the journey your destination.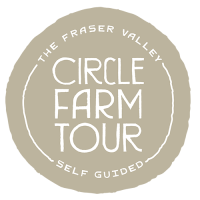 Explore our Communities
A Circle Farm Tour is a road map that directs you to a variety of specialty farm-gate vendors, open air markets, charming eateries, heritage sites, fairs, and other special events. There's a brochure and map for each participating community. The tours are self-guided, meaning that you travel in your own car, at your own pace, when it suits you. Each community brochure/map directs you from 10 to 20 venues. All are related in some way to agriculture and the area's farming heritage.
Explore the Fraser Valley through our partner stories, get inspired with a recipe or two using products from our Circle Farm Tour partners, or get to know our local businesses and owners through our blog.